Online URL to MP3 Converter
Convert link to MP3 from 250+ sites for free
Too slow?
Speed up with pro Music downloader - AnyVid >
Get MP3 Downloader Pro for Computer & Mobile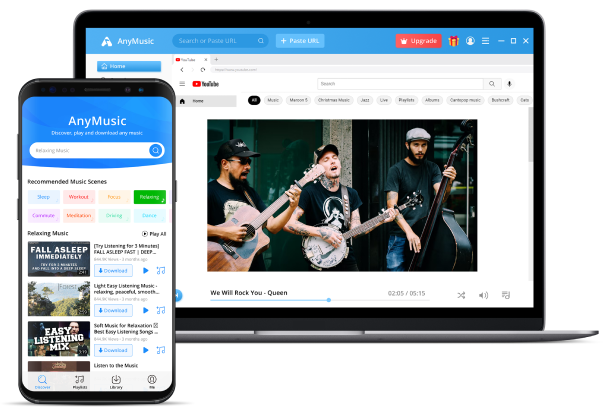 Save music in MP3 320kbps
Convert URLs from 1,000+ sites
Download the full playlist in one go
Save music at 3X faster speed
Convert URL to MP3 from 250+ Websites!
Convert URL to MP3 online as you like! We support 250+ sites, including SoundCloud, Mixcloud, Jamendo, Bandcamp, Instagram, Facebook, X(Twitter), etc. Have a try, and you will discover more downloadable resources by using our free URL to MP3 converter!

How to Download URL to MP3 Online For Free?
Step 1. Open the detail page which contains the video or audio you want to convert, and copy its URL. Paste it to URL to MP3 converter's search box.
Step 2. Click the search button, our link MP3 converter will convert MP3 from URL instantly and shows all the downloadable resources to you.
Step 3. You can pick and download any files from the URL contents, just click the download button beside the files you want. And we will show you all the formats and qualities you can download, including both MP3 and MP4.
The Best URL to MP3 Converter Online
Fast Link to MP3 Convert with One Click
Save your time! There is a better way to download music URL to MP3. You can download music to MP3 with URL in a single click! Paste the URL, and the tool will automatically turn the URL to audio, or you can insert the keyword for a wider search. With our tool, you can save your time in URL to MP3 download.
Listening to Your Favorite Video by Converting MP4 to MP3 from URL
We are more than a music link converter! You can convert video to MP3 via URL, and play it on your MP3 player. Or, you can also get MP3 from URL of an online talk show video, which now can be played on your car radio. With URL to MP3 Convertor, there is an infinite possibility waiting for you to find out!
URL to MP3 Converter on Your Phone with Browser
You may have such experience: found a lovely song on a streaming site, but cannot make URL to MP3 download on your phone. It is very annoying and time-wasting to copy the link from your phone to the PC and copy the downloaded file back. But now, you can open our link to MP3 converter on your phone's browser without any obstacle and have a free URL to MP3 convert. The converter runs well on most mobile devices. You can convert URL to MP3 on iPhone, iPad, and Android.
Why Choose Free Link to MP3 Converter?
Easy and Fast
With our free URL to MP3 online converter, it is easy and fast to convert link to MP3 file. All you need is to paste the source link. What's more, you can also search the file with keywords.
Safe to Use
Safety is our top priority. We will make sure that you can convert video link to MP3 without any risk of viruses. We have industry-standard provide SSL certificates to protect your privacy when you download link to MP3.
High Compatibility
With our link to MP3 Converter, you can download URL to MP3 in all popular web browsers like Google Chrome, Mozilla Firefox, Microsoft Edge, and Apple Safari. It also supports link to MP3 downloads on iPhone, iPad, and Android.
Enjoy Pro URL to MP3 Converter for PC, Mac & Android
Download the Playlist All at Once
In MP3 Music Downloader Pro, converting video to MP3 can never be so easy. You don't have to do repetitive work to download link to MP3 one by one. You can convert link to MP3 in batches. It means you can download a album of music or a whole playlist all at once.
Enjoy HIFI Music and HD Video
Everyone likes to enjoy high-quality video and audio. With MP3 Music Downloader Pro, you can download files of the highest quality the original file has. As the advanced version of online URL to MP3 converter, MP3 Music Downloader Pro supports link to MP3 320kbps high-fidelity audio and link to MP4 4K high-definition video, allowing you to enjoy MP3 from 128kbps to 320kbps and MP4 from 240p up to 4K!
Experience Three Times Faster Download URL to MP3
There are more than 1,000 sites embedded in MP3 Music Downloader Pro, covering from streaming sites to video-sharing websites. You can browse and download any URL to MP3 in the built-in browser. What's more, the intelligent AI download button can help you identify any website link to MP3 or MP4 resource URL on the website you are browsing and download URL link to MP3 in one click.
Frequently Asked Questions About Free URL to MP3 Online
What is the best link to MP3 converter iPhone can use?

Our URL to MP3 converter is the best online link converter to MP3 iPhone can use. It allows you to download music via URL or song title. You can convert directly with the Safari browser. Most importantly, you can download files on this website for free.

How to convert video URL to MP3 online for free?

It is simple. First of all, copy the link of the video you need. Then open Free URL to MP3 Online, paste the link you copy, and click on the Search button. The tool will find the file you want. You can choose the file you want from different qualities.

How to download SoundCloud URL to MP3?

1. Find and Copy the link of the song you want on SoundCloud.
2. Open Free URL to MP3 Online, Paste the link, and click the Search button.
3. Click the Download button and choose a file you want from different formats and qualities.

Is URL to MP3 converter safe?

It is safe, as long as you didn't use the converter for commercial purposes, and if you need to do so, you must first contact the owner of the URL.
Give Us 5 Stars!
Show your love by giving 5 Stars.
Free URL to MP3 aims to provide the best MP3 music download service.
Last updated: 2023-11-03